New Scientist magazine published a fascinating article yesterday about a group of scientists who are using photos from Flickr to create 3D models of objects like Notre Dame cathedral or the duomo in Pisa, Italy. Normally, 3D modeling is an arduous process that involves setting up cameras at carefully selected locations, each offering a different angle and view. By arranging the cameras in a precise way, it's possible to use computers to stitch together a detailed model of the object in three dimensions.
This type of 3D modeling makes sense when you're trying to map out an object of a limited size, such as a car, but what if you wanted to make a 3D map of the entire world? Using traditional methods, this would be impossible, since it's totally impractical to send out teams of trained individuals all over the world with their cameras deployed in a mathematically precise way.
So a group of researchers in Washington state and Germany decided to try a new approach. Photo sharing sites like Flickr contain millions of photos taken by members of the public. Consequently, certain places frequented by tourists have been photographed many thousands of times from innumerable angles. Notre Dame, for example, is featured in more than 200,000 photos in Flickr – and the researchers know that because many Flickr users have taken the time to tag their pics as such.
The team created software that would ingest all the photos contained in Flickr tagged for a particular object. It would then examine each photo to see if it contained an angle that would be useful for modeling. Some photos would get eliminated because they featured a person in them, were blurry or exposed inappropriately, but anything else that was within an acceptable range would be analyzed in comparison with other photos. The system would then connect the dots and create a 3D model.
"The system provides an opportunity to use the billions of user-contributed images available online to 'reconstruct the world' without relying on specialised equipment," researcher Michael Goesele told New Scientist. "The quality of the reconstructions we can achieve from mere internet data is comparable to models acquired with traditional methods such as very expensive laser scanning systems. Overall, we see this as a very first step into an exciting new area – think of reconstructing Rome from the about one million images available on Flickr alone."
So far, the results are impressive. But don't expect to see certain details like color and contrast. Instead, they look more they're cast in wax: perfectly proportioned but monochrome and gummy. Here's Notre Dame: the real thing and the 3D model. Click on the model for a more detailed view.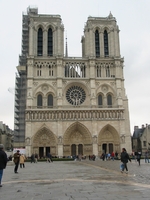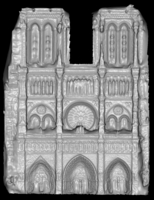 On the
project's website
, you can view several other examples of objects they've renderered, as well as a video in which you can zoom in on the details of Notre Dame's facade.
I find all of this really intriguing, not only from the perspectives of technological innovation and crowdsourcing, but from a copyright perspective as well. For example, the Notre Dame model is based on more than 650 photos, selected from the original pool of 200,000 potential photos. Given that this was done for research, I think the scientists could easily make the case that it's a situation of fair use. But what if Google Maps wanted to take this technology and apply it to their own 3D model of the world? That would mean that photos taken by you, me and lots of other people would be analyzed, processed and rendered into a derivative work. Would such a commercial effort require permission of every photographer involved?
Given the fact that millions of Flickr photos have been licensed under various Creative Commons licenses, that might make this easier to sort out. For example, any photo licensed with a "no derivatives" requirement could be filtered out. Photos licensed merely with an attribution requirement would be the easiest to deal with, but you'd still have to be able to point to a list of all the Flickr users whose work contributed to the effort. You could also base it entirely on photos that were licensed with noncommercial or "share-alike" requirements, but any 3D models produced using those photos would have to follow those rules as well.
No matter how you slice it, though, one thing seems certain – it would be hard for the producer of a 3D model developed this way to claim sole ownership of it. These models wouldn't exist without the contributions of countless individual photographers, most of whom probably have no idea that they contributed in the first place. So if one were to make a model of the whole world, employing millions of photos from millions of people, we'd all have an ownership stake in it, even if it's just a small visual share. Who knows – maybe those pics you took on your last vacation may actually end up part of a public good. -andy