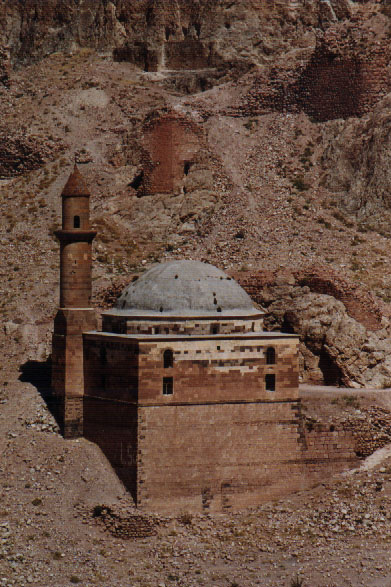 18th century Kurdish mosque,
Dogubeyazit, Turkish Kurdistan
Breakfast in Kars — not exactly what one might expect as a culinary highlight of a Turkish adventure. Though many travelers have argued that Kars has little going for it except proximity to Ani, few would deny that the city is home to perhaps the most delicious honey in Turkey, not to mention the best place to find the aged yellow cheese known as kasar peynir, or "kosher cheese." Having feasted in several hotel restaurants on packaged jams and boxed cheeses, I hoped that breakfast in Kars might be a fresh experience.
The restaurant at the Hotel Güngören was a dark, hazy hall populated by chainsmoking business travelers. Guests ate buffet-style Turkish breakfasts, with each table piled with heaps of fresh bread. I approached the buffet and loaded my plate with black olives, kosher cheese and some hard boiled eggs. To my disappointment I found an empty honey platter — a large serving dish with only a tawny glaze. I reached for two packets of processed jam and began to head to a table when a man appeared with a new serving plate. Returning to the buffet I found a glorious Kars honey, darker than amber and thicker than jelly, freshly scraped from its honeycomb. I could barely lift the spoon off the platter to slather my plate with the honey; once I managed to raise it, I required a second spoon just to transfer the honey to my plate.
I could have spent all morning sitting in that dingy cafeteria, slopping up fresh bread in golden honey while drinking tea and listening to cell phones erupt every other minute. But my mellifluous slice of heaven came to an end once Susanne and Berzan finished their breakfasts, ready to hit the road.
"All things must come to an end," I sighed. "I guess I'd gain 100 pounds if I had this for breakfast every day anyway."
By 9 o'clock we were on the road from Kars, driving through a series of farms and lava floes. Shepherds tended to their flocks as wheat farmers loaded pickup trucks with bales so large the wheat extended 10 feet off both sides of the cab.
About 45 minutes into the drive we noticed what appeared to be an overturned truck on the right side of the road. Overturned vehicles are a common sight on Anatolian highways — we had passed at least three or four on the way up to Kars. But as we got close to the truck we realized we had stumbled upon a fresh accident scene. Five cows lay dead on the side of the road while at least a dozen others wandered aimlessly. An old man with a thick beard sat in the grass crying, holding a bloodied cloth to his right ear.
Berzan pulled over immediately to see if we could offer assistance. I opened the back door just in case we needed to carry someone away from the accident. A younger man left the side of the older man and yelled something in Kurdish to Berzan. I noticed the man had smears of blood across his forehead but didn't appear to have any wounds of his own. Berzan jumped back in the car and speeded away.
"They want us to go get the military police," he said. "The old man is scared people will come and steal his things."
We arrived at a jendarma checkpoint about two minutes after leaving the accident scene. Berzan rolled down his window and began speaking rather authoritatively to a young soldier while Susanne and I each tried to piece together what had happened. My first impression was that the old man was carrying cattle in his truck and it had overturned, but now that I had time to think about it I wasn't really sure. Meanwhile, the soldier waved us through without asking questions as he got on his walkie talkie to radio for assistance. A great smuggling strategy, I thought to myself cynically. Tell the soldiers there's been an accident and speed through the checkpoint while they're preoccupied.
"So what exactly happened back there?" I asked.
"The old man must have been driving and hit the cows," Susanne replied.
"But I thought he was carrying the cows," I responded.
"I don't think so," Susanne answered. "There were two boys on the left side of the road watching over some of the cows." I hadn't even thought to look left, actually, so I missed seeing the boys.
"Yes, that's probably what happened," Berzan concluded. "The boys were herding the cows across the road when the old man came around in his truck and hit them. He probably doesn't have a license. Many villagers cannot read so they cannot pass a driver's test, but they go ahead and drive anyway. That's why there are so many of these accidents here in Turkey."


Anatolian Trivia


The name "Dogubeyazit" is Turkish for "West Beyazit." The original town of Beyazit had been a human settlement since Urartu times over 2700 years ago, but was ravaged during World War I and the subsequent war for the Turkish republic. The newer city was settled in the 1930s.
A little more than an hour after the accident we arrived in Dogubeyazit. Just as it had appeared while passing through the previous day, Dogubeyazit was overrun with dust: dusty streets, dusty shops, dusty trucks, dusty dogs. We stopped at a cafe along Belediye Caddesi, where we drank tea and ate scones as classic Hanna Barbera cartoons played on a TV in the corner. Not far above our heads we noticed an ink-drawn caricature of Gary Coleman.
"How long of a drive is Ishak Pasa from here?" I asked.
"Is-hak Pasa," Berzan corrected me. "Don't pronounce the S and the H in Ishak like shhh. They are separate sounds."
"I know, I knew that," I replied smirking. "How far is Is-hak Pasa then?"
"Much better," Berzan said. "Only 20 minutes. Very close."
It's a five kilometer drive from Dogubeyazit to Ishak Pasa's Palace but in order to get out of the town we first had to steer around a sizable construction project in which an entire block of street had been dug up, forming a rectangular hole 20 feet deep. Berzan waited patiently as mule carts laden with watermelons pulled out of the way so we could have our turn driving over the sidewalk.
Just outside of town we reached a military checkpoint, not far from the local army barracks. As Berzan dealt with a soldier explaining our intentions in Dogubeyazit, I noticed a row of a dozen tanks parked in a lot behind an electrified fence — another reminder of our proximity to the Iranian border.
"Iran is that way," Berzan said, pointing east. "No more than 30 minutes away. If you want we can go to by a carpet." Until we got new passports that weren't politically voided by Israeli border stamps, however, Persian carpets would just have to wait for another visit.
"Can you see it from here?" Berzan asked us, pointing towards the mountainside. There far above us, halfway up the mountain, I could see the majestic palace of Ishak Pasa. Though few visitors ever make it this far east to see the palace, it is still one of the most indelible images of Turkey. Numerous tour books display Ishak Pasa on their cover: a grand 18th century palatial fortress standing guard over a desolate Anatolian plain, a solitary mountain looming in the distance.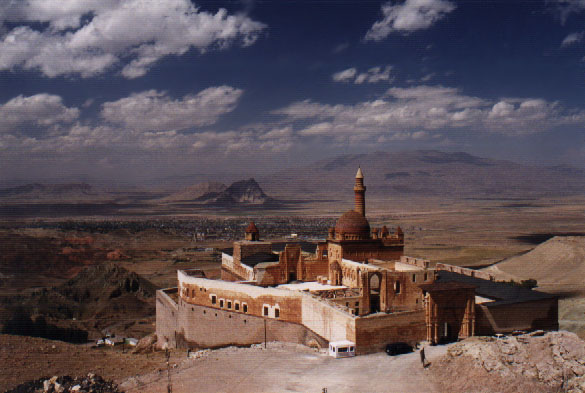 Ishak Pasa Sarayi, near Dogubeyazit, Turkish Kurdistan
Ishak Pasa Sarayi, the Palace of General Ishak, was the life-long quest of Çolak Abdi Pasa, a Kurdish emir of the late 17th century. Building on the architectural strengths of Ottoman, Kurdish, Seljuk, Armenian and even Georgian styles, Çolak erected a palace that would be unique in Anatolia. Construction was so detailed and laborious (366 rooms take a lot of work), the palace was not completed until 99 years later, late in the reign of his son Ishak Pasa. In 1784, Ishak Pasa moved into the palace of his father's dreams, naming it in honor of himself. Though abandoned in relative ruin long ago, the Turkish government is meticulous renovating and conserving the site, returning the palace to its former glory.
Berzan parked the car just in front of the palace gate. The gate's original gold-plated doors, masterpieces of Kurdish workmanship, were whisked away by Russian troops at the turn of the century and can still be seen on display at St. Petersburg's Hermitage Museum. Even without the doors, the structure is breathtaking, especially from above. Susanne and I immediately climb the hill in front of the palace in order to get a better view.
Atop the hill we found a restaurant whose owner seemed eager to have us come up, take some pictures and perhaps have some lunch. Instead we stood at the edge of the hill, admiring the view for half an hour and taking pictures each time the sun came from behind the clouds.
"Absolutely incredible," I said to myself, my right eye pressed against my camera.
A stiff wind made posing for pictures and changing lenses a little tricky, but that just meant we would have to spend a little longer on the hill enjoying the view. I could see Berzan chatting with someone near the palace gate.
"He must be so bored," Susanne said.
"I hope he's not," I replied, "but at least he's getting paid to be bored. Besides, how could this place ever be boring?"




Ottoman gravestone, Ishak Pasa Sarayi

As Susanne used the restaurant's bathroom I walked back down the hill, stopping at a small graveyard just above the palace. Ottoman-style graves dotted the land, most of which were broken or receding like Pisa towers in miniature. Susanne caught up with me a few minutes later.
"I'm glad we went to the top of the hill first," she commented. "The view up there is definitely the best."
Berzan met us just outside the gate and led us inside. The first courtyard had yet to be repaired in any way so it was littered with broken pavement and fallen bricks. Climbing over a pile of stones through a door on the left side, we arrived at the main courtyard, currently a grand obstacle course of square pits, 10 feet across and 50 feet deep. The spaces between each pit were only about two feet wide, so I did my best to walk carefully and follow Berzan's footsteps. Susanne, meanwhile, trotted through without blinking, fully enjoying the exercise. Once across the pits we reached they freshly restored white marble courtyard, behind which stood the main palace buildings, including the mosque and dining room. At the back of the courtyard stood a stone gazebo, fabulously decorated with marble carved into grape vines.
We began our exploration by visiting the harem, made up of multiple living rooms each with tall windows and stone fireplaces built into the back walls. The harem rooms had received varying amounts of renovation, including several rooms with obtrusive metal braces reinforcing the vaulted ceilings. Others had no roofs at all, allowing the light to pour onto their polished stone floors. Beyond the harem we reached an open-air dining room that had been restored to nearly flawless conditions: rose quartz columns connected by delicate arches, empty window panes trimmed by meticulous flourishes of vines and geometric shapes carved into the rock. The upper edges of the walls and arches were decorated with triangular Seljuk mouldings, jutting out like stone diamonds that had been cut in half. Because there was no roof above us, we had a beautiful view of the mosque's dome and minaret as clouds sailed across the crisp blue sky. What a pleasure it must have been for old Ishak Pasa to dine here, whether under a rising morning sun or a cool starry night. Berzan tried to show us several more harem rooms but Susanne and I kept coming back to the dining hall. If you had seen one harem room you had seen them all, but there was no other place like this beautiful dining space.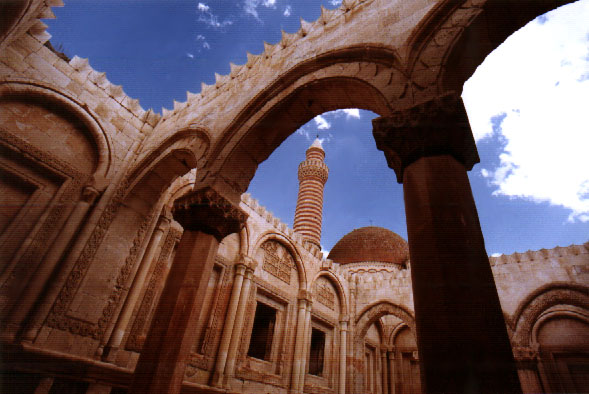 Main dining hall, Ishak Pasa Sarayi
After having our fill of dining room atmosphere we crossed through the main courtyard to visit the mosque. The mosque was small and simple, yet graceful. I was about to comment on its remarkable state of preservation but then I remembered reading that it had been used as a functioning mosque until the 1980s, so much of its decorations including its low Ottoman chandeliers were probably fairly recent.
"Let's go upstairs," Berzan suggested. Susanne and I followed him up a narrow stone staircase whose steps were too high and too thin for an easy climb.
"Didn't some Mughal emperor die following down stairs like these?" Susanne remarked.
"Sultan Humayun," I replied. "Fell down his library staircase and broke his neck. Watch your step…."
The second floor led to a row of balconies which offered views of the mosque interior. Beyond them we found a second flight of stairs leading to the roof. We stepped outside and leaned against a row of stone blocks, admiring the view of the dome and minaret. A sudden breeze sent a chill up my neck. As Susanne peered over the edges of the roof, Berzan and I sat there for some time contemplating the palace, the scenery, perhaps even our experiences over the last two days. Susanne broke the silence by grinning and pointing to a round air vent leading to the dining hall below. "The royal toilet?" she joked.
"Can we climb the minaret?" I asked Berzan.
"Not anymore," he replied. "They closed it because it was dangerous. I did it once but I didn't like it. I felt it swaying in the wind. Never again…."
Two views of Ishak Pasa Sarayi's mosque and minaret


On the way down the stairs we bumped into three backpackers, the first we had seen since arriving in Kurdistan. Two Israelis and a Brit had met in Van and were now traveling together.
"We started walking here after lunch in Dogubeyazit," the Brit explained. "I thought we would have never have gotten here if it hadn't been for the lift an old man gave us in his lorry."
After taking advantage of the workmen's bathrooms we returned to the car and drove downhill to Dogubeyazit. As we passed the checkpoint and the row of tanks I had seen earlier, Berzan pointed to them and said, "When I first went into the army I drove a tank. I didn't like it because we had to spend so much time keeping the tank clean, oiling it, so I changed jobs and became a cook."
Susanne and I were both surprised by Berzan's experience as a tank driver. When he had first mentioned that he had been a cook in the army, I had assumed this was Turkey's way of keeping the Kurds in army jobs that wouldn't train them in the use of force. But Berzan's comments blew my theory out of the water. Apparently the Kurds were trained to fight, even though those fighting skills could eventually be turned against the Turks. It didn't make any sense.
"I can't imagine having to be in this army," Susanne said.
"I didn't wanted to join the army," Berzan replied. "I wanted to leave Turkey, go to Switzerland. But I stayed because of my father. He said if I go I could never come back home. But I hate the army. They're killing us."
I didn't know how to react to Berzan's words. They're killing us. He had said the same thing the day before, but today the syllables struck me as both tragic and ironic. The Turkish army was the enemy of his people, yet they still wanted young Kurdish men to serve in their army. It was like the Serbs forcing young Kosovars to join the army and fight against Kosovo's independence. The only purpose such a policy could serve was the enforcement of absolute submission, pure and simple. If we can make you join our army and fight for us, we can make you do anything. Berzan turned up the volume on his stereo and began to sing quietly to himself.



Turkish Pronunciation


Interested in learning how to pronounce the Turkish words mentioned in this journal? Check out my Turkish pronunication guide!

We parked the car across from Tad Lokantasi, a two-story kebap restaurant. Inside Berzan visited a waiter he knew and said hello while the maitre d' approached us, apparently thinking we were there alone.
"Hos geldiniz," the maitre d' said, smiling.
"Sag olun," I replied, assuming he knew we were with Berzan. As the maitre d' walked towards an open table he turned around, puzzled why we weren't following him. He shook his head back and forth, the Turkish way of saying I don't understand.
Before I could figure out an appropriate answer, Berzan returned and asked if we were ready to go upstairs. The maitre d' laughed and nodded his head as soon as he realized why we were standing there. Upstairs we sat by a window with a beautiful view of Mt. Ararat. Susanne ordered a beans and rice dish while Berzan and I both ate Iskender kebap, a popular dish of döner meat over bread with tomato sauce. A little boy from an Iranian family walked back and forth the room, watching GI Joe on a television against the wall.
View of Mt. Ararat outside the Tad Lokantasi restaurant, Dogubeyazit
As we returned to the car Berzan pointed across the street to a short man with gray hair and a five o'clock shadow. "That's my friend Hasan," Berzan said. "He just got back from China."
Berzan called over to Hasan and got his attention. The plump man gave Berzan a broad grin and joined us for a walk through the town's Iranian bazaar. This small market specialized in commercial goods brought in from Iran, including radios, computer parts, light bulbs and coffee makers, as well as other household products. Berzan and Hasan chatted away in Kurdish as Susanne and I peered through the shops, examining their assortment of goods. As Berzan talked with a shop owner Hasan came over to me and talked about his recent trip. Over the course of 163 days he led a caravan from China to Turkey via Uzbekistan, Turkmenistan and Iran. It sounded like a wonderful, difficult journey.
Having completed a loop around the market, the three of us said goodbye to Hasan and returned to the car. As we stopped for gas, Susanne asked Berzan to tell us the tale by Turkish storyteller Nasreddin Hodja that he had eluded to yesterday after a military checkpoint.
"One day Hodja decided to sell his mule at the market," Berzan began. "There were many people interested in buying the mule that day, so they each got a chance to look at it. Each time a person went up to the mule, they checked its teeth to see how old it was, to see if it was healthy. One after another, people visit the mule, examine its teeth and leave. In the end no one buys it, and Hodja is stuck with a mule that smiles every time it sees someone. Sometimes I feel like Hodja's mule."
Sometimes I feel like Hodja's mule. With each checkpoint, Berzan did what was expected of him as the Turks examined his identification, his car, even his face. And with each checkpoint, we too had learned to react as had Hodja's mule — retrieve our passports, smile, and hope nothing went amiss.




A small twister meanders across a field

Leaving the city limits of Dogubeyazit I noticed a swirl of dust in a farmer's field. The swirl grew higher and higher until it formed a small twister.
"Do you see the twister?" Berzan said, pointing out the window. "They are very common around here. It isn't strong enough to be a problem, though."
As we passed the twister Berzan increased the volume of his stereo. Soon afterwards the man singing on the tape began to speak in English as orchestrated Kurdish music dramatically coursed around him. He then switched his lyrics to Turkish, Arabic and Kurdish.
"Who is this?" I asked Berzan.
"It is Sivan Perwer," he replied. "He is Kurdish, but he lives in Germany. He is originally from Turkey though his family fled to Syria. Sivan Perwer is the greatest Kurdish singer. He can never come home because of what he sings. The Turks would arrest him."
We turned off the road and headed along the main highway to Van. After driving for a minute or two I noticed Berzan began to pull over the car to the side of the road. My first reaction was that he wanted us to get out and take a picture of Mount Ararat one last time, which would soon disappear in the distance. As the car slowed down along the shoulder of the road, I could hear the sound of sirens behind me. It appeared we were being pulled over by police — were we driving too fast?
I reached into my pocket to pull out our passports, sure that we would need them. A small two-door police car pulled over to our left. A policeman was leaning out the passenger window with a large automatic rifle pointed up into the air.
"Get out of the car," I heard Berzan say quickly.
While turning to open the rear left door I felt someone's hand grab my arm and yank me out of the car. It was so fast I could barely process it, but I realized it was the police officer with his large automatic rifle in his other hand. The next thing I knew I was being thrown against the back of the car spread-eagle, the soldier screaming in my ear while another soldier was frisking Berzan near the front of the car as Berzan shouted at him. Susanne appeared to be standing alone, away from the car, but I couldn't really tell. Were there other cops? What did they want? What the hell had we done?
I then felt a sharp pain in the back of my right thigh, punctuated by yelling in my ear. Had I been kicked? Smacked with the rifle butt? Before I could process what was happening the soldier kicked the inside of my left foot, causing my legs to swing out into a an even more vulnerable spread-eagle position.
My mind went blank. I wasn't scared, nor did I feel angry. I wasn't sure why we had been pulled over or why they were doing this to us. All I knew was that our lives could be in a lot of trouble, and the only thing that might get us out of that trouble was in my left hand. I held onto our passports for dear life.
"Amerikaliyiz! Biz Amerikaliyiz! Bizim pasaportlar!" I yelled, holding up our passports while trying not to raise my hands off the back of the car. The second soldier came over to me from where Berzan was being frisked and took the passports out of my hand. He thumbed through them quickly and said something loudly to me in Turkish.
"Get back into the car," Berzan said, still spread-eagle on the front of the car. "Get in now."
Not sure if this was Berzan's translation or suggestion, I looked over at the second cop. He nodded his head and motioned to the back seat of the car as he allowed Berzan to stand up straight. Berzan and the first cop began to yell at each other as Susanne and I returned to the car. It appeared that our passports would grant us safe conduct, though Berzan's future was far from certain.
Once inside, I took a deep breath as soon as I closed the door. "Are you okay?" I asked Susanne.
"Yes — they didn't touch me," she replied. "Are you okay?"
"I'm a little bruised, I think. I think I was kicked. I got hit by something in my left thigh before getting my foot kicked from under me. I don't know; maybe he hit me with the rifle."
"What are they going to do with him?" Susanne asked, looking over at Berzan.
A moment or two later Berzan was allowed to open the front door of the car in order to retrieve his keys. Apparently they wanted to search the trunk. Berzan leaned inside to pull out the keys and simultaneously handed Susanne the Sivan Perwer tape from the stereo.
"Put them in, in…." he said quickly, pointing to the glove box. Berzan closed the door and began arguing with the cops again as Susanne stashed his tape.
Ages seemed to pass as the argument continued, though in truth it may have been no more than 30 seconds. Berzan and the second policeman then called over to us, asking me and Susanne to get out of the car yet again. Unlike my first exit, this time I was allowed to step out on my own accord and walk towards them. As the first cop stared at me coldly, the second cop reached into the front seat of the police car and pulled out a two-liter bottle, holding it up towards me.
"No thanks," I said first in English. "Hayir, Memur Bey, tesekkürler."
The first cop began to speak to me in Turkish angrily, then pointed to Berzan, hollering out English, "Who is he?"
The second cop, now holding a liter of water, added, "How do you know this man?"
Turkish words raced through my head as I tried to organize a thought. How could I explain that Berzan was the manager of our hotel and had been recommended to us? Should I say we knew him well or not? What would get us out of this?
Berzan took the bottle out of the second cop's hand, giving it to me. "Drink this," he said, possibly stalling for time to give me a moment to think. "They want to know how you know me. They say I am taking you somewhere against your will. Tell them you know me."
"Friend!" Susanne said anxiously. "How do you say friend in Turkish?!?"
"Arkadas!" I blurted out, finally understanding what to say. "Berzan — bizim arkadas! Bizim sofor bey! Oteli Ipek Yolu. Arkadas!" Susanne was joining in at this point, saying friend and Arkadas repeatedly.
"This man is a problem!" the angry first cop replied in broken English, his cold blue eyes staring right at me. "He is a problem, a Kurdish problem…." The policeman seemed intent on having us say something — anything — that would give them the excuse to drag Berzan away.
"Yok!" I said back to him indignantly. "No problem…. Dert degil! Bizim arkadas!"
"Why are you here today?" the second policeman asked.
"Dogubeyazit," I replied. "Ishak Pasa Sarayi. Berzan — Berzan sofor bey. Oteli Ipek Yolu'dun! Arkadas!"
At this point the second policeman began to nod his head. "Okay, okay," he said.
Berzan then spoke up again. "They want you to get back in the car," he said. "Take the water with you."
Once again Susanne and I returned to the car, wondering what would happen next. From what we could tell the situation was beginning to simmer down. The cops knew they weren't going to get anything useful out of us. One of them got back into their car to turn it around while the other one continued to argue with Berzan. Once the car was facing the other direction, the second one returned to the car, leaving Berzan to lean into their window and continue the argument, almost as if he was the cop who had just pulled them over. They had let him go, though Berzan was doing his best to give them a piece of his mind before they departed. A moment or two later the police drove off, leaving Berzan near the side of the road.
Berzan returned to the car and slammed the door shut. A pause.
"Bastards!" he yelled, clearly shaken from the experience.
"Are you okay?" Susanne asked.
"They say I take you where you don't want to go," he replied, his English beginning to suffer from his anger. "They wanted to know if you know me. 'Of course they know me. We are together for three days — friends!' They said we ran the road block. What road block? They said they saw two tourists with Kurdish man and it looked suspicious. They said they fired three shots above us and we didn't stop."
"I thought I heard a tire pop," Susanne responded, reviewing the events prior to being pulled over. "That must have been it. That popping sound."
"I also thought we had a flat," Berzan continued. "That's why I slowed down. Then I saw the police and the man hanging out the window with the gun."
"I honestly didn't know what the hell was going on," I said. "Driving with the windows open there's a lot of noise back here, so I couldn't hear anything. I had no idea there were police behind us until we almost made a complete stop."
"They wanted to take me away and leave you here," Berzan continued, now getting angrier. "Or maybe they would have taken you. They would say nice things to get you to go…. They take you away and 'play football' with you, you understand? They worry that journalists will come here and show what they really do to us…"
"I cannot tell you what they do, what they do to us," he trailed off. "The things they do, the electric… I cannot tell you." Susanne and I could only stare in silence.
"Every day it happens," Berzan continued. "Any day 10 or 15 Kurds are taken off the mountains and they are killed. Nobody knows, nobody knows. This is how we live…."
"I am so sorry," Susanne said, filling in the words that would not come to me.
"You are not used to this," Berzan replied, shaking his head. "They do this to me. They can take me and hit me but I would not let them leave you on the road. Maybe they would have let you drive to Van and maybe I would have to meet you later."
"We wouldn't have left you," Susanne promised him. "If they put you in their car we would have gone with you too."
"The police," Berzan continued, "when they let us go they said they would come by my hotel and would make me treat them well. Free drinks, free rooms, a good time. I said okay. But if they come I will pretend I don't know them. They can only come as civilians, so I will treat them as civilians."
"I'm so sorry," Susanne said. "I wish you could get on a plane with us."
"So this has never happened to you before," Berzan joked as he began to calm down.
"Nope," I replied. "I can't say that it has."
"Now you have," Berzan said, a smirk forming on his face. "It's good for you…"

---

We sat quietly until nearing the next military checkpoint. As we pulled into the checkpoint, Berzan cranked up his Sivan Perwer tape for one last moment, then turned it off. Berzan continued to sing the Kurdish anthem until rolling down the window to speak with the soldier. The soldier examined our passports courteously and soon waved us through.
"So how are you?" Berzan asked, checking in on us.
"Fine," Susanne replied. "And you?"
"No problem… No problem…."




Muradiye Falls, Turkish Kurdistan

Around 3pm we arrived a Muradiye Falls, a picturesque waterfall just northeast of Lake Van. Just across from the falls was a small cafe which could only be reached by crossing a hanging wood bridge suspended over the Muradiye River. I walked over the bridge slowly, knowing that every step I took made the entire bridge oscillate. Susanne and Berzan, just behind me, took the opposite approach, stepping as powerfully as possible in order to get the length of the bridge bouncing up and down.
"Now we walk like drunks," Berzan smiled, hobbling across the bridge.
The cafe sat on a steep hill just across from the falls. A large group of soldiers were finishing their drinks at one of the tables. As soon as I saw them I felt a shock in the back of my head, as if I had just been startled. It was almost as if I thought one of these young soldiers having a drink was going to come up to me and continue the harassment we had encountered near Mount Ararat. Of course nothing happened; I don't think any of them even noticed me. But I still felt their secret gaze over me. It didn't matter that we had been harassed by civilian police, for in my mind they were all the same — they were the men with guns. I could only recall two images from that whole encounter: the blue eyes of the policeman who pulled me out of the car, and his gun. Those policemen were probably 80 kilometers north of us now, having a cigarette by the side of the road, but I felt their presence here in the form of these off-duty privates. I might never look at a soldier the same way again.
Berzan sat down at a table with the cafe owner while Susanne and I descended the hillside in order to get the best view of the falls. Because we were visiting in the dry season we weren't treated to the full waterfall experience. Nonetheless the sight of the water gracefully drifting over the cliffs was quite beautiful. It felt strange being surrounded suddenly by such serenity after having gone through such a scary experience with the police less than an hour before.
"Are you okay?" Susanne asked me, staring towards the falls.
"I'm okay," I replied, "Just a little pissed off. I'm just wondering when the shock of all of this will hit me…."
I climbed back up towards the cafe, where Berzan continued to sit at a table having a cigarette with the cafe owner. We did our best to relax over a couple of Cokes while Berzan and his friend chatted and swapped stories in Kurdish. As I finished my soda the soldiers paid their bill and left the cafe, walking over the foot bridge. The irrational side of me felt a palpable relief as they departed — another encounter averted. The rational side of me smiled as I watched one soldier make his way across the swaying bridge, holding on for dear life as if his next step would be his last.
Berzan put out his cigarette and said goodbye to his friend. We returned to the car and finished our drive to Van in about 45 minutes. Berzan rolled down his window, playing a Ciwan Haco tape as we entered town.
"We would love to bring home some Kurdish music with us," Susanne said. "Are we allowed to buy it legally?"
"Yes, it's legal now," Berzan replied. "Before you leave for Istanbul we will stop at a store and find you some good Kurdish tapes."
Back at the hotel we relaxed on a couch over tea, comparing Berzan's license with our passports. Berzan looked like such a boy in the photograph — he actually looked his age. In real life, Berzan seemed so much older. No wonder, considering what we had just experienced today — imagine having to live under the yoke of another people, always under suspicion, always assumed guilty? Kurdistan makes for shorter childhoods, I suppose.
After resting in our rooms for a couple hours we decided to take Berzan to dinner at Merkezi Et Lokantasi. We met him in his office downstairs, which was decorated with photographs of Kurdish children. Behind his desk I noticed a long stringed instrument — a saz.
"I will play it for you after dinner, if you would like," Berzan offered.
Never in a rush to proceed anywhere without first drinking tea, we sat for a while in his office, watching the evening news in Turkish.
"Is there Kurdish language television here?" I asked.
"Not legally," he replied. "We watch Kurdish TV on satellite. It is called Medya TV. It is illegal in Turkey but everyone watches it on their satellite dishes. I think it is based in Britain, maybe Germany. It has to change names and locations sometimes to keep the Turks from shutting it down."
Berzan shut off the TV as we got ready to depart for dinner. I commented on how difficult it must be to have only the Turkish perspective on television and in the news. "In America we hear very little about what's going on in Kurdistan. We read about it when Turkey goes after PKK fighters in Iraq, but that's about it. We don't hear much otherwise, except when the Turkish government is doing something."
"No one knows what we go through here," Berzan replied. "You only hear about the Kurds as terrorists, the Kurds as killers…. But we have no human rights — there is no human rights in Kurdistan. You, you can go where you want. I cannot leave Turkey. I cannot leave Van without permission."
"They say Ocalan is only a terrorist," he said, putting out his cigarette. "They don't understand. To the people, his is more real than God."
We arrived at Merkezi Et Lokantasi just after 8:30pm. It wasn't as crowded as it had been two nights earlier, which made for a quieter dinner. Susanne and I both ordered chicken sis kebap and lamb çop sis kebap. Berzan ordered a large plate of lamb kebap as well as several plates of shepherd's salad, cacik and spicy tomato puree. We also received a plate of çig köfte, the raw meatballs that had shocked us during our first meal here. Always willing to make the same mistake twice, I scooped up a meatball and ate it. Susanne was more upfront about it: "You know," she said, "I don't think our stomachs will be able to handle this twice."
"We will have to hide them," Berzan joked. "We would not want them to think we don't like them."
The three of us stuffed ourselves as we spent the evening talking about crime and punishment. Berzan had read about the recent school shootings in America and was interested in how common they were. This led to the interesting topic of blood vendettas.
"In Kurdistan if you kill someone, the dead man's family will want justice," he explained. "They will then kill someone in your family, which will mean your family will want to kill someone again. It is all very bad. Does this happen in America?"
"Not often anymore," I replied. "There are legends of some families going to war with other families long ago, like the Hatfields and McCoys, but now the government punishes people for killing people."
"Does your government always execute killers?" Berzan asked.
"No, not always," I explained. "For example, if I killed someone in Washington DC, I would go to jail for life but not be executed. But if I killed someone in Virginia, just across from DC, I could be sentenced to death. It depends on which state you are in. Whatever you do, though, don't kill anyone in Texas."
After finishing our meals and paying the bill — $12 for everything — we returned to the hotel to listen to Berzan play his saz. He brought us to what he called a "traditional Kurdish room," which was decorated with carpets and oversize cushions. As we sipped another round of tea, Berzan asked us questions about American music and what styles were popular regionally. Berzan played several songs on his saz, which he had been studying for about a year. The saz was very unusual to the ears, tuned in such a way that made everything sound extremely dissonant and out-of-tune. Berzan passed the saz over to me, allowing me to play with it.
"Are you sure this thing is tuned right?" I asked jokingly.
"It is tuned right," he replied. "It sounds very good, doesn't it?"
Putting my guitar-playing skills to use I managed to figure out the basics of the instrument but had a difficult time in making anything good come out of it. Unlike the guitar, which is tuned to a 12-tone scale, Berzan's saz was tuned to a seven-tone scale, with some of the frets aligned to be purposely sharp or flat. Using my empty tea glass as a slide, I laid the saz in my lap and played a couple of Led Zeppelin tunes before making a feeble attempt at the Doors song "The End." Berzan showed me how to play a Kurdish song by tapping his fingers over the frets, allowing me to follow each tap.
After returning the saz to Berzan, our conversation shifted back towards politics. "It's very bad what's going on here," he lamented. "Everyone thinks we're terrorists. Everyone is afraid to talk…."
I was surprised by Berzan's openness — only two days earlier I couldn't even get him to talk about using Kurdish in public. Perhaps our altercation with the police earlier today had been the test that graduated us to a new level of honesty. We had experienced the absurdity of modern Kurdistan for ourselves, so now we could talk about it.
"It's very bad how they treat us," Berzan continued. "We have no rights. They treat us like animals."
"I wish you could come to America with us," Susanne replied.
"It would be a dream," Berzan said quietly, stirring his tea.
The room went silent for a few moments. A grin then appeared on Berzan's face. "Bashka!" he proclaimed.
"What does that mean?" Susanne asked.
"It is Turkish…. You say it when there is a pause in conversation and you don't know what to say. In Kurdish we can also say eysha."
"I don't think we have a word for that in English," I replied.
"You could say 'Well!'," Susanne suggested. "Or 'So!'"
"Bashka!" I said, practicing aloud.
I glanced at my watch and noticed it was well past one in the morning. Berzan's bashka couldn't have come at a better time, for I was becoming extremely tired. But I was quite glad his invitation to hear him play his saz had turned into a long evening over tea.
"Despite what happened today," Susanne said as we were going to bed, "I'm so glad we spent the last three days with Berzan. There's no way we would have been able to hang out with someone like that if we had joined a tour."
"There's a lot we wouldn't have experienced in Kurdistan if we had gone on a tour," I replied.
"I can't believe we're going back to Istanbul tomorrow," Susanne said, shutting out the light.
Bashka, I thought to myself.

---

The next morning, Berzan brought us to the Van airport for our flight back to Istanbul. We spent three final days in the city, revisiting our favorite sites, lounging in cafes and even experiencing a traditional Turkish bath. But emotionally, our trip to Turkey had concluded in Van. We had crossed the length of this beautiful, enticing country by land in two weeks. Our Anatolian fortnight had come to an end.